Product Summary
The TLP521-1GB is a programmable controller. It consists of a photo-transistor optically coupled to a gallium arsenide infrared emitting diode.
Parametrics
TLP521-1GB absolute maximum ratings: (1)storage temperature range, Tstg: -65 to 125℃; (2)operating temperature range, Topr: -55 to 100℃; (3)lead soldering temperature, Tsol: 260(10s)℃; (4)total package power dissipation, PT: 250mW; (5)total package power dissipation derating (Ta≥25℃), △PT/℃:-02.5mW/℃; (6)isolation voltage, BVS: 2500(AC, 1min.,R.H.≤60%) Vrms.
Features
TLP521-1GB features: (1)collector-emitter voltage: 555V(min); (2)current transfer ratio: 50%(min); (3)rank GB: 100%(min); (4)isolation voltage: 2500Vrms(min).
Diagrams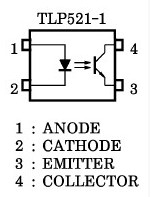 Image
Part No
Mfg
Description
Pricing
(USD)
Quantity

TLP521-1GB

Other



Data Sheet

Negotiable
Image
Part No
Mfg
Description
Pricing
(USD)
Quantity

TLP504A



PHOTOCOUPLER DUAL TRANS-OUT 8DIP

Data Sheet

Negotiable

TLP504A−2

Other



Data Sheet

Negotiable

TLP504A(F)

Toshiba

Transistor Output Optocouplers TR HIGH Vceo (55V)

Data Sheet



| | |
| --- | --- |
| 0-1: | $0.63 |
| 1-10: | $0.50 |
| 10-100: | $0.43 |
| 100-250: | $0.38 |


TLP504A(GB)



PHOTOCOUPLER DUAL TRANS-OUT 8DIP

Data Sheet

Negotiable

TLP504A(GB,F)

Toshiba

Transistor Output Optocouplers 55Vceo 2500Vrms standard

Data Sheet



| | |
| --- | --- |
| 0-1: | $0.63 |
| 1-10: | $0.50 |
| 10-100: | $0.43 |
| 100-250: | $0.38 |


TLP504A-2



PHOTOCPLR QUAD TRANS-OUT 16-DIP

Data Sheet

Negotiable